Organic handmade curd cheese 500g 20% FDM
The ANDECHSER NATUR organic curd cheese with 20% FDM in Bioland quality is characterized by its tartish, fresh taste, as well as the visible layers which develop from the scooping of the cheese into the cheese forms. For baking enthusiasts this is a first-choice ingredient, but it is also popular for dips and as bread spread.
ANDECHSER NATUR Organic handmade curd cheese 500g 20% FDM
Organic quark*, 20% FDM
wonderfully creamy
traditional handmade specialty
produced with microbial lab
Curd cheese is a special cheese where the cheese jelly is filled into cheese forms by hand and where the whey can easily drain. After about 12 hours the layers of the scooping are recognizable. Only a few dairies still produce curd cheese this way by themselves. Such a cream cheese dairy is Schefflenz in Baden-Wurttemberg; where it is manufactured according to our recipe and with extraordinarily high-quality craftsmanship from the milk of our northernmost organic farmers.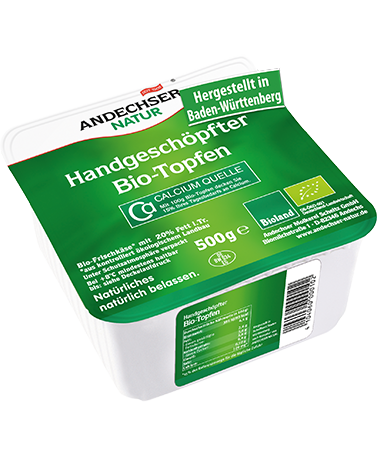 Average nutrient content per 100g
thereof saturated fatty acids
Salt
0,10 g (natural salt content of milk
Allergy information
Potentially allergenic food
contain according to recipe
Used in production possibly as a track included in the product
Eggs
(protein, yolk) and products thereof
Peanuts
and products thereof
fish
and products thereof
Cereals containing gluten
(wheat [wheat starch, wheat flour, protein, durum wheat semolina], rye, barley, oat, spelt) and products thereof
Shellfishes
and products thereof
Lactose
Explanation: >0,1g/ 100g
Lupine
and products thereof
Shell fruits
(almond, hazelnut, walnut, chaew nut, pecan, Brazil nut, Pistachio nut, Macadamia nut and Queensland nut) and products thereof
Sulfur dioxide and sulfite
at concentrations higher than 10 mg / kg or 10 mg / l, expressed as SO2
Celery
and products thereof
mustard
and products thereof
sesame
and products thereof
Soya
and products thereof
Molluscans
and products thereof