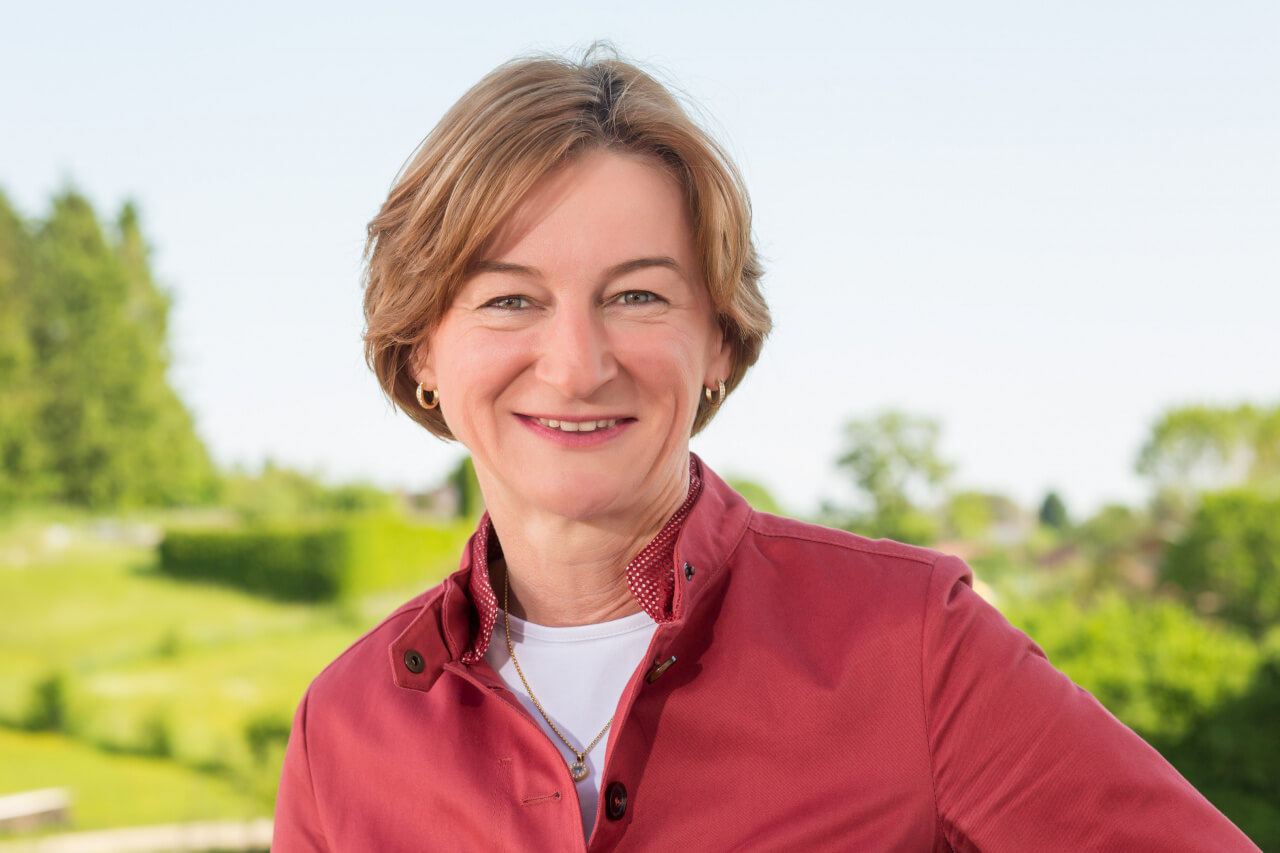 Thank you for your interest in our dairy plant Andechser Molkerei! Take a look around and let me introduce you to our ideals, to the very essence of our being, our dairy plant and our organic dairy products.
Our home is a small town called Andechs, a place of pilgrimage within the "Fünf-Seen-Land" (Five Lake District) in Upper Bavaria, just south of Munich. Most of our organic dairy farms are spread along the winding foothills of the Bavarian Alps or across the rolling hills of the Allgäu, a small region in Swabia. Just imagine the picturesque landscape of the Bavarian Prealps with its sprawling green meadows, the brightly-colored flowers, the deep blue lakes set against the backdrop of a majestic mountain range! This idyllic scenery is a part of who we are and the very reason why "Heimatliebe und Lebensfreude" (love of one's native country and pure joy of life) have become an inherent part in all our endeavors.
Those two terms encompass all that is important, to you and to us: our social and physical environment, our flora and fauna in particular, climate protection, water and soil conservation. Our home, family and friends. For us, it is an emotional as well as highly logical and reasonable 'moral obligation' to uphold and promote these values, together with all other like-minded individuals!
The result: A 'bio-logical' mindset and organic-oriented implementation - and the 'ANDECHSER NATUR organic dairy products'.
Our values
A mutual 'joie de vivre or joy of living'!
You and I, we know: if your own achievement also proves beneficial for someone else, you experience a sense of true accomplishment; a sense of joy and satisfaction. On that note, a few wise words from Austrian novelist Maria Eber-Eschenbach: "If happiness is what you desire, bring joy unto all around, for it is in the joy of others, your own happiness will be found."  
Our organic dairy plant in Andechs has embraced this notion which has since become the driving factor behind the road to our 'ecological success'. Over the past decades the demand for our ANDECHSER NATUR organic dairy products has steadily increased - proof of your satisfaction, your enjoyment and your thorough 'joie de vivre'.
Moving boldly into the future - together with you!
No one can predict what lies ahead. Any and all responsible plans for creating a better future for us and our children are based on mere speculations. Nothing is set in stone; we all continually play a part as our choices and habits have consequences. We can therefore actively shape the future and help create a better and brighter tomorrow. The French mathematician, physicist, writer and philosopher Blaise Pascal, born in 1623 in Clermont-Ferrand, already gave credence to the inherent truth within this notion: "The common good is an infinite sphere of which the center is everywhere and the circumference nowhere."
Consistently taking advantage of all opportunities
Each and every one of us at the Andechser dairy plant will continue to work tirelessly to provide you with healthy and delicious organic dairy products of the highest quality.
Conscious consumers, such as yourself, and their careful product selection enables us and our organic dairy farmers to continue our efforts to protect and preserve our nature, our environment and our home.
It is my pleasure to extend a warm welcome to you all and I hope our website will provide you with many interesting insights into our operation and answer any question you may have.
Organic milk farmers
The valuable organic milk of ANDECHSER NATUR dairy and cheese specialties originates from certified, family-led organic farmsteads. The farmers are affiliated with the organic farming associations of Bioland, Demeter, Biokreis and Naturland. Compliance with strict regulations is checked by independent control authorities on a regular basis.
Our interactive map shows you the dairy catchment area of the Andechser Dairy Scheitz. The green spots mark the organic cow farmers, the blue spots mark the organic goat farmers. We have summarized the organic farmers for the sake of clarity, which is shown by the numbers. The numbers indicate how many organic farmers are in this region. If you zoom in on the map you can see all our organic farmers.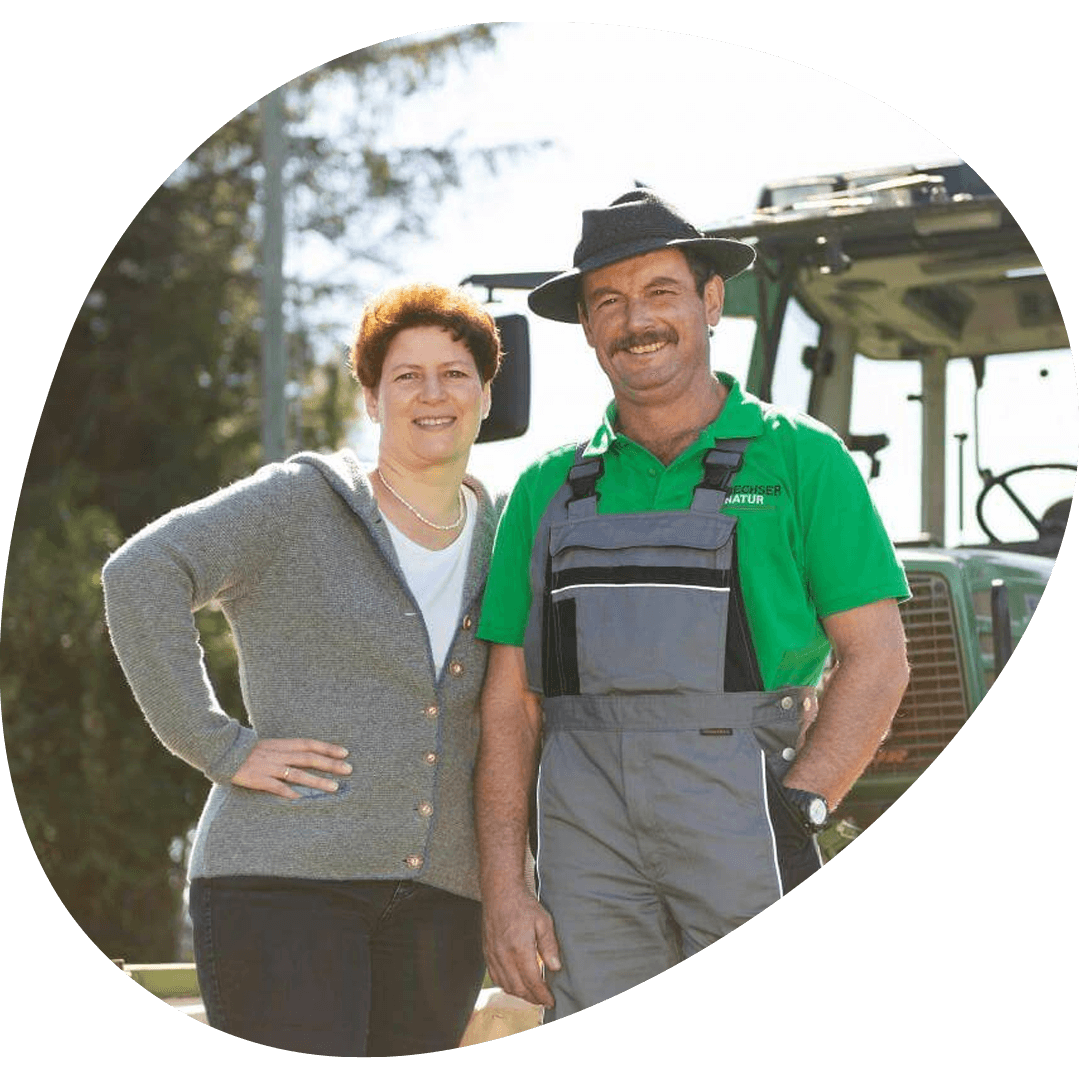 In dieser Region befinden sich mehrere Bio-Milchlieferanten
Lernen Sie diese Bio-Milchlieferanten genauer kennen