Organic camembert 100g 55% FDM
The classic for a diverse cheese pleasure; the ANDECHSER NATUR organic camembert, with 55% FDM, produced from special mold according to a traditional recipe it offers a mild, aromatic cheese pleasure – both pure and for trendy dishes.
ANDECHSER NATUR Organic camembert 100g 55% FDM
Organic soft cheese*, 55% FDM at the minimum
mild, aromatic soft cheese classic
produced with animal rennet
mold cultures for a delicate flavor and an attractive presentation
Cheese production is a noble art in which every cheese dairy is characterized by special crafts. Like Andechser Dairy Scheitz, the Dairy Ennstal has more than 100 years of experience in the production of cheese. The special passion of this dairy from Styra is the production of a special Camembert mold, using prime organic milk from the organic alpine farmers from the Ennstaler Alps. This unique quality cannot be surpassed.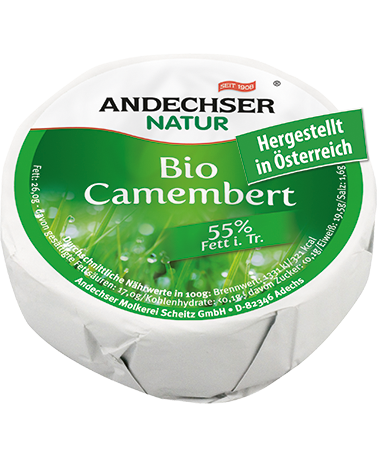 ripening period
approx. 8 days
Average nutrient content per 100g
thereof saturated fatty acids
Allergy information
Potentially allergenic food
contain according to recipe
Used in production possibly as a track included in the product
Eggs
(protein, yolk) and products thereof
Peanuts
and products thereof
fish
and products thereof
Cereals containing gluten
(wheat [wheat starch, wheat flour, protein, durum wheat semolina], rye, barley, oat, spelt) and products thereof
Shellfishes
and products thereof
Lactose
Explanation: >0,1g/ 100g
Lupine
and products thereof
Shell fruits
(almond, hazelnut, walnut, chaew nut, pecan, Brazil nut, Pistachio nut, Macadamia nut and Queensland nut) and products thereof
Sulfur dioxide and sulfite
at concentrations higher than 10 mg / kg or 10 mg / l, expressed as SO2
Celery
and products thereof
mustard
and products thereof
sesame
and products thereof
Soya
and products thereof
Molluscans
and products thereof